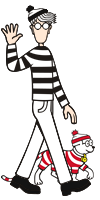 masa saya kecik-kecik..
kami adik beradik ada main satu game,nama dia Where's Waldo/Wally?
ia merupakan sebuah buku bergambar...
game dia ialah mencari Wally dalam hay stack..
maknanya : kena cari si wally ni dalam a crowd of people..tiny -tiny miniscule of people...
best juge main game cari mencari ni..
kira bangga jue jika dapat cari si Wally ni dulu..
kira nye game ni mengasah mata untuk lebih tajam dan cepat tangkap...
nak try carik Wally?
come
HERE
p/s::yay!boleh main game cari wally kat internet!