Apa kami buat di hari minggu...lalala (entry bergambar....)
Hari Sabtu~~
Location::Manhattan Fish Market,QueensbayMall Penang
Occasion::En.Suami menang loteri,4D...hahahaha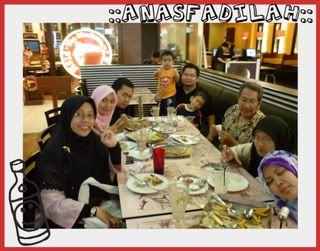 ::saya bersama keluarga mertua...from left me,aween,jat,En.Suami wif 2 anak sedara,ayah,emak and anis::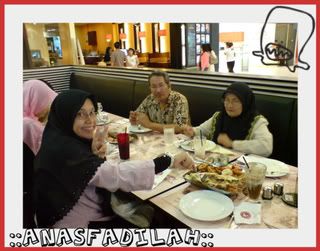 ::me wit ayah and emak..::

::Us::

Hari Ahad pule~~
Location::Restoran Hameediyah,Lebuh Campbell,Penang
Occasion:: Jalan-jalan cari makan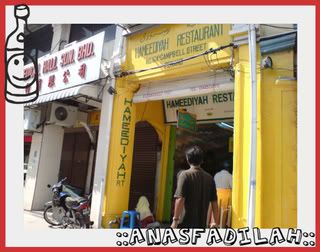 ::Restoran Hameediyah...mau pekena Nasi Kandaq REAL and sedap,mai sini..sedappp!dan tempatnye bersih!::

::inside restoran hameediyah...macam2 ada!::

::me with my nearly finish nasi beryani and ayam goreng!nasi beryani die sedapp sgtt...lembuttt betul nasi die...teringin nak pegi hameediyah lagi!::
Fakta di hari minggu
1: i wear the same cloth...mind u...because baju maternity saya hanya ada satu je yang saya rasa comfy gile
2:Mai penang...kenalah pekena nasi kandaq real punya...nasi kandaq KL semua pembohong...dah komersial...Nasi Kandaq Hameediyah is the first nasi kandaq in penang...dan die tak 24 hour...jadi kualiti nasi kandaq depa terjaga!tu yang sedap...tak percaya,mai la penang!
3::notice the peace sign...itu gambar default saya...hahaha
4::En.Suami tak menang loteri lah...tipu jer...ada rezeki lebih,kami belanja mak,ayah,anis,wan,Is and adik am (anak sedara),jat and aween...depa tak biasa makan ala2 gitu...jadi kami belanja depa,Alhamdulillah depa suka..
p/s::kak arin,takdak orang p penang carik mee kari...mai penang pekena nasi kandaq beratuq ka,nasi kandaq line clear ka,pasemboq ka,laksa pokok ceri ka...takdak aih depa mai penang cari mee kari...mamu anas terar la bab cari nasi kandaq,carik mee kari mamu anas pun penin!